Product Detail Page
Tower
Magazine Rack - Steel
This is a vertical carousel. Use Next and Previous buttons to navigate. Pressing the space bar will open it in full screen.
Tower
Magazine Rack - Steel
Is that this month's issue?
Add a cute & classy magazine rack to a living room, guest room, or bathroom to produce an air of bookish charm. Whether or not you actually read the magazines, at least you will finally have somewhere to put them.
This is a carousel of product images. Use Next and Previous buttons to navigate, or jump to a slide with the slide dots.
This minimalist, steel magazine rack looks good and eliminates clutter in the living room or office, by the bed, or in the bathroom.
Product is 7.09 x 9.84 x 27.95 inches (L x W x H) and weighs 2.87 pounds.
Four tiers for magazine storage
Each tier supports up to 1.25" of magazines
No assembly required.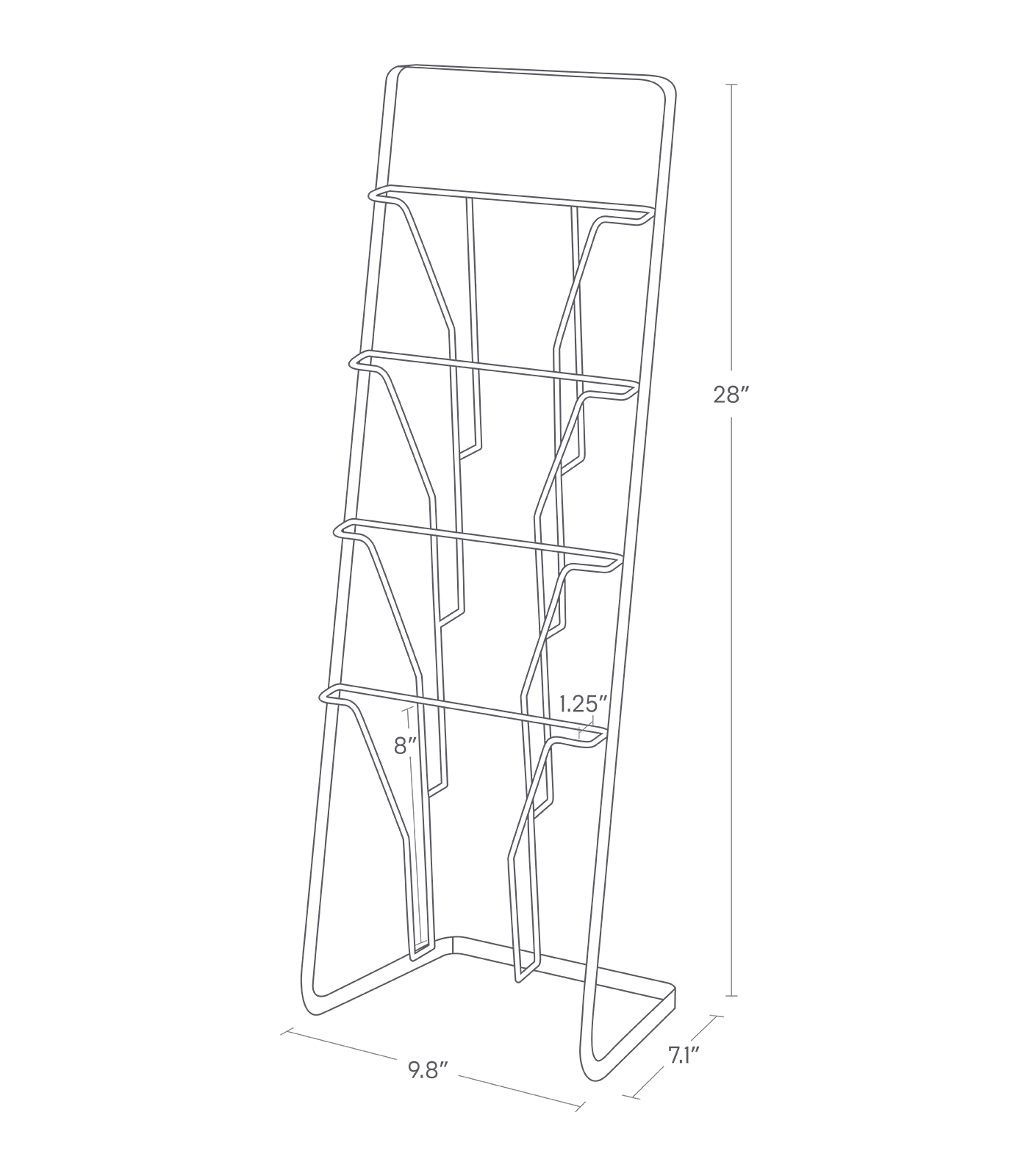 Materials

Steel

Dimensions

L 7.09 x W 9.84 x H 27.95 inches

Weight

2.87 lbs.

Assembly

None

Care instructions

Wipe clean with a soft cloth.

Product number

6512

Other

Designed in Japan

Ships from California

Made in China

Free shipping on orders over $150 throughout contiguous U.S.

Free 90-day returns
Materials

Steel

Dimensions

L 7.09 x W 9.84 x H 27.95 inches

Weight

2.87 lbs.

Assembly

None

Care instructions

Wipe clean with a soft cloth.

Product number

6513

Other

Designed in Japan

Ships from California

Made in China

Free shipping on orders over $150 throughout contiguous U.S.

Free 90-day returns
It will depend on the thickness of the magazine. The rack has four compartments with 1.25" depth each, which would allow of 6-8 magazine of average thickness in each compartment.

Unfortunately the storage compartments are not wide enough to hold vinyl LPs
It will depend on the thickness of the magazine. The rack has four compartments with 1.25" depth each, which would allow of 6-8 magazine of average thickness in each compartment.

Unfortunately the storage compartments are not wide enough to hold vinyl LPs
As seen in real life
Show us your style using #theyamazakihome and tag us @yamazakihome
You are $150 away from free shipping