Product Detail Page
Tower
Toothbrush Holder - Steel
Tower
Toothbrush Holder - Steel
Another Kind of Tooth Fairy
This holder is some kind of magic. It floats your toothbrushes in air: the open-frame bottom won't collect water, unlike a cup. The second holder can be used to store your partner or roommate's toothbrush in a more sanitary way, whereas most toothbrush storage options let the toothbrushes bump together. Or, use the second holder for a razor or other dental device.
This is a carousel of product images. Use Next and Previous buttons to navigate, or jump to a slide with the slide dots.
Toothbrush Holder - Steel
This basic, minimalist toothbrush holder holds up to two toothbrushes, and can be attached to a mirror, or any other surface.
No assembly required.
Product features - Water Resistant
Maximum weight: 0.55 lbs.
Mounting - Suction-Cup Mount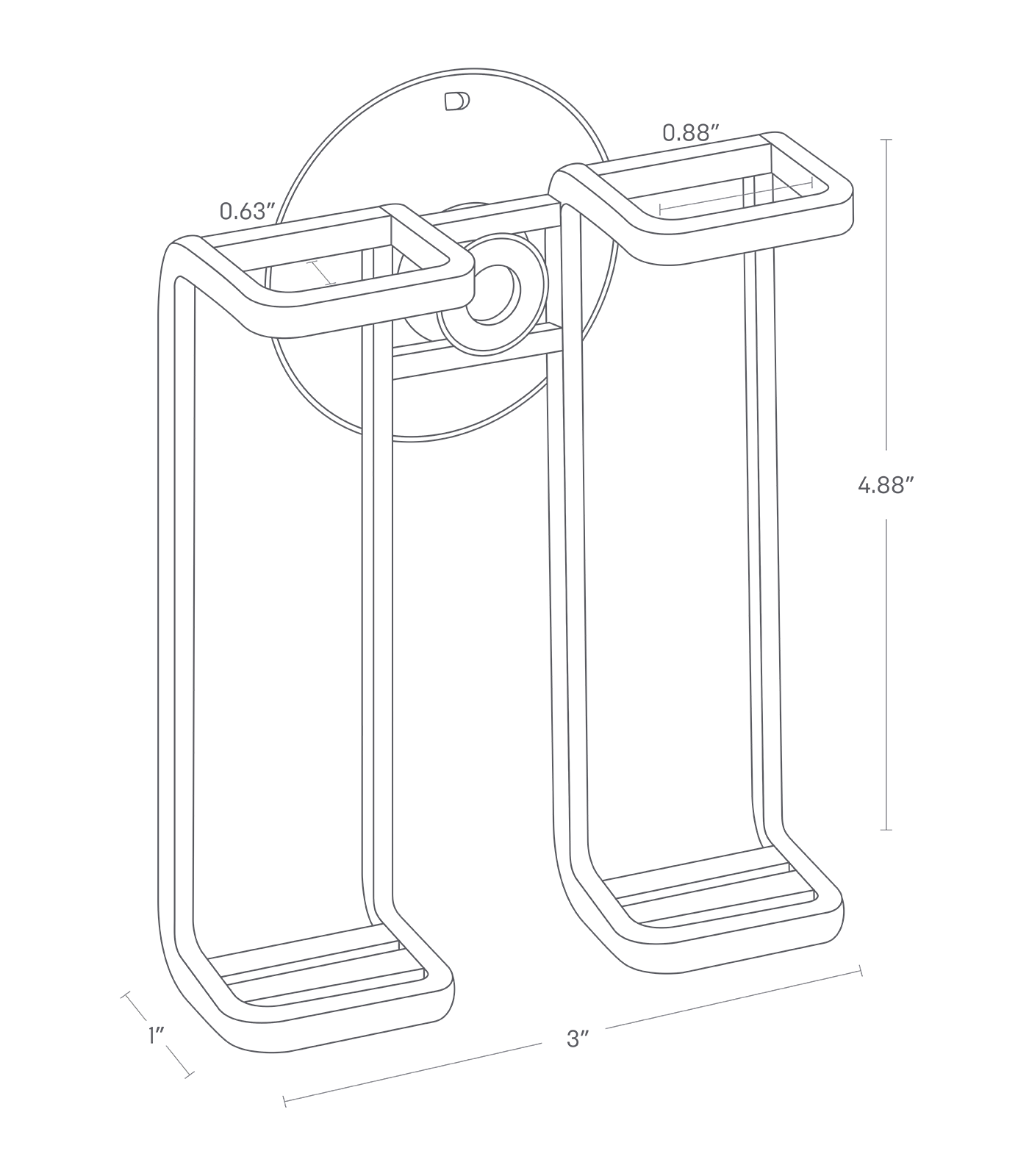 Materials

Steel

Dimensions

Dimensions: 1.18 x 3.07 x 3.74 inches

Weight

0.22 lbs.

Loadbearing capacity

0.55 lbs.

Assembly

None

Includes

2x Cushioning Pads

Care instructions

Rinse under water and dry.

Product number

2530

Other

Designed in Japan

Ships from California

Manufactured in China
Materials

Steel

Dimensions

Dimensions: 1.18 x 3.07 x 3.74 inches

Weight

0.22 lbs.

Loadbearing capacity

0.55 lbs.

Assembly

None

Includes

2x Cushioning Pads

Care instructions

Rinse under water and dry.

Product number

2531

Other

Designed in Japan

Ships from California

Manufactured in China
Most electric toothbrushes will be too large to fit into this toothbrush holder.

The steel toothbrush holder is water and rust resistant.

Thoroughly washing the surface to which the suction cup will attach with hot water, wiping t, dry, and then putting a small amount of water or petroleum jellly on the suction cup can improve attachment
Most electric toothbrushes will be too large to fit into this toothbrush holder.

The steel toothbrush holder is water and rust resistant.

Thoroughly washing the surface to which the suction cup will attach with hot water, wiping t, dry, and then putting a small amount of water or petroleum jellly on the suction cup can improve attachment
You are $150 away from free shipping