Condo Therapy: A Sight for Sore Eyes
Home renovations are difficult at any time of year, and particularly tricky during Covid times. Still, @condotherapy managed to transform their Chicago condo into a cozy, homey abode with only "DIY skill, inherited furniture, and a whole lot of blind faith."
Your home renovation looks amazing! Are you an interior designer by profession or by hobby?
Interior design is my accidental hobby! My mom was always designing and re-designing our home growing up, and she would bring me along to vintage shops and furniture stores to brainstorm her next project. She had amazing taste and was able to create beautiful rooms that served as blank canvases for her endlessly rotating decor. She passed away from cancer in 2019, and I have drawn on all the advice she gave me while putting together my home. I even stole her favorite paint colors!
Please tell us a little bit about your home!
I purchased my first home—a 2 bed, 2 bath condo in the Lake View neighborhood of Chicago—in July 2020. I fell in love with it online because of its fireplaces, open space, exposed brick, and HUGE master closet. It miraculously checked all of my boxes so I made an offer the night I saw it!
When did the renovations begin and how long has it taken?
Renovations began almost immediately after closing—my flooring team came in that night to replace the laminate and carpet with hardwood and my contractor started painting the kitchen cabinet. I wanted to have the dustiest projects done before I moved in ten days later. I've renovated one bathroom, one fireplace, three closets, and my little laundry nook, as well as lots of smaller cosmetic changes along the way.
"I love how minimalist all of Yamazaki's products are … A friend recently gave me the Freestanding Tower Rack which is perfect for my tiny entryway."
What was the hardest part of the process?
Getting the bill! I realized quickly how expensive these projects can be, so I've been trying to learn as much as I can to do it myself. But sometimes, you just have to leave it to the pros—like when your toilet is leaking into your downstairs neighbor's unit!
The most enjoyable part of the process?
Learning new skills has been incredibly empowering. I love that I can now replace a light fixture, hang custom blinds, or install a barn door without calling a professional. And, it's a great feeling knowing that all this hard work is going towards beautifying a home I will own for many years.
Where do you draw your inspiration from?
My mom's influence is always at the front of my mind, but I have always loved sleek Scandinavian spaces. The most important part of my home to me is that it's comfortable for me and for guests. While it might be more fashionable to get a cool and colorful couch, I have stuck with my reclining suede sofa for the sake of comfy movie nights!
What are the factors you most considered when shopping for your laundry area?
Size, size, size! My laundry area is very much in the middle of my kitchen/dining room/home office, so it was crucial to keep my setup as low profile as possible. I had searched for months before I finally found the Rolling Slim Storage Cart. I love that I can tuck all the unsightly laundry products inside it and push it up against the wall. Then when I need to wash my clothes, everything I need is right at my fingertips! I love how minimalist all of Yamazaki's products are. I furnish primarily in neutral colors so that I can decorate with seasonal colors and I'm always looking for small space solutions. A friend recently gave me the Freestanding Tower Rack which is perfect for my tiny entryway. And, it doubles as a decor piece… I matched a few of my coats to my throw pillows to pull the room together!
Are there any other Yamazaki Home items you have your eye on?
I am a clean freak so I am loving the face mask dispenser! The Sliding End Table would also be perfect for the spots in my living room that aren't quite big enough for a full end table.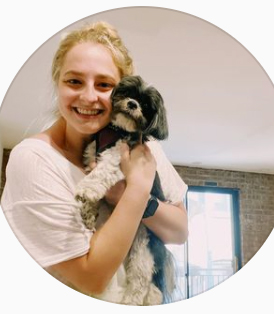 Interview with