Yamazaki at Home with Brewteafullybrewed
Inside the [Yamazaki] Home of @Brewteafullybrewed, whose tea cakes and tea accessories have us itching for some matcha. Her ability to set up a tea ceremony has us in awe. We love her use of neutrals and natural greens to create a sense of serenity, both in her teatime aesthetic and her home in general.
1.
Stackable Countertop Shelf
Tea ceremony brimming with zen
These countertop shelves serve as the perfect surface for an intimate, relaxing tea party. The whisk is used for preparing matcha tea in traditional Japanese tea ceremonies. We love the neutral tones paired with the soft pink of her tea cups.
2.
Jewelry + Accessory Trays
We love these so matcha
With a little creativity and a little fun, these accessory stands become the perfect servers for a tea party. Japanese tea ceremonies are often accompanies by sweet snacks that balance the bitterness of the matcha. But we're huge softies for everything matcha-flavored, especially these tasty-looking morsels!
3.
Storage Basket
A basket full of springtime
These Instagram-famous Tosca baskets have boundless uses. We see them in pantries, in closets, in bathrooms, and all over the home. Here, Katelyn shows off her idea of using reusable, durable baskets that are part of the present, not just the presentation.
4.
Rolling Kitchen Island Cart
This island cart is ready for island life
Fun in the sun couldn't be easier with this storage cart loaded with all the swim gear you need. Katelyn utilizes every level of this extra storage on wheels, from the wooden tabletop to the baskets on the lower level, making this cart the perfect poolside companion.
5.
End Table
Plants make a happy home
A side table turned into a shelf showcases a collection of happy plants, which are a not-so-secret ingredient for a happy home. We love how the greens pop against the neutrals of the planters and table.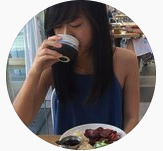 Interview with
Katelyn { tea + teaware }